Bringing Baby Home Workshops in Seattle
"The greatest gift you can give your child is a strong relationship between the two of you." ~ John Gottman, PhD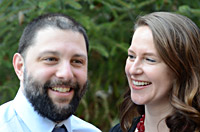 Join Evonne Noble, Lea Kennedy, Brittany Bacon, and Therese Soudant or a workshop that will prepare you for your new baby, dramatically improve the quality of your relationship, and help you to become be the best parenting team possible!
Cost:
The cost is $200 per person for course fees*

Microsoft employees: your EAP can be used to help cover your course fees, please contact us for details.

Do you have an EAP at your workplace that will cover pre/postnatal classes? If so, contact us and we can help you research if your EAP can help to pay for a BBH class.

Scholarships, student rates, and sliding scale options available for a few spots at each workshop; please contact us to apply.
How to Register & More Details
Please contact us at to receive registration information and reserve your space, or just go to Brown Paper TIckets to pay online and register
If you have an infant, please feel free to bring him/her to the class if you like. This has worked well for parents at our past workshops though it may take some juggling. We will have a break/rest space adjacent to the workshop area for you and baby. You are also welcome to find childcare; please do what is best for you.
There is room for 6-20 couples at each workshop but we need at least 6 couples to register in order to hold each class; if we don;t have a minimum number of participants the workshop will be canceled and your fee will be either applied to another workshop or refunded less a processing fee.
*online course and customized course fees are higher
Information and images on this page adapated from the Gottman Institute